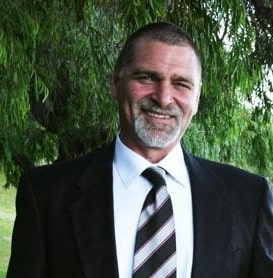 My name is Steve Ewings and I was born and raised on the edge of the Great Victoria Desert in Western Australia, where my parents were missionaries in a remote outstation called Cosmo Newberry. As a result of growing up among Aboriginals I gained an intimate knowledge of the Australian bush, Aboriginal language skills, and I'm familiar with their cultures.
After the missionary stint my parents took up a 365,000 acre lease on some arid land next door to the mission. We ran about 2,000 sheep and around 200 cattle in a very subsistence fashion. Our bathroom had a dirt floor, no walls in the kitchen, and we used kerosene lights for many years. These outback beginnings means I'm no stranger to isolation and hardships. At an early age I learnt to shear sheep and worked as a professional shearer for some 10 years, shearing in most States of Australia.
I left the outback of Australia and got a job in the film industry working as a location scout and unit manager. After leaving the desert I also did a lot of bushwalking (hiking) and went through Army Reserve Officer training. I've toured extensively throughout Australia, by motorcycle, 4WD and horseback. I began mustering sheep on horseback when I was 9 years old, have mustered in cattle camps and have explored many areas with pack horses.
In 2005 I created a climate change web site which drew on the International Panel on Climate Change (IPCC) reports and supported renewable energy or at least very low emissions technology in seeking to answer the anthropogenic causes of climate change. Since early childhood and growing up in the Great Victoria Desert of Australia I have had an interest in what is now often referred to as 'sustainability'. This fascination continued in my undergraduate degree in archaeology and palaeoanthropology, gravitating towards exploring Indigenous colonisation patterns of Australia's arid inland. This study provided insight into how humans have repeatedly over-exploited our natural resources and how we are now running out of ecological niches to move into.
The idea that people sustained themselves for tens of thousands of years in an arid country leads me to believe that a particular philosophy underpins sustainable living. As a manager at Uluru Kata National Park for three years I had the pleasure of working with Anangu, (the traditional Indigenous land owners) and the same Pitjantjatjara speaking people I grew up amongst in the desert. This provided an opportunity to have a hands-on role in managing one of Australia's iconic landscapes and learning from the Traditional Owners.
For five years I managed renewable energy development programs for the Australian government and my journey continues both in providing opportunities to learn from, and to apply past lessons in looking for solutions to climate change. Currently I work with a NGO managing biodiversity and sustainable agriculture projects in the South West of Western Australia. However, through this site I am committed to assisting people, particularly those in rural communities in developing regions of the world to overcome their severe economic & environmental challenges.
I believe the wise management of biomass for biogas production and gasification, as means of generating useful energy is sustainable and renewable.
Teaching
Online, Universal Class – Climate Change
Online, Universal Class – Introduction To Australian Archaeology
Education
BA Archaeology/Palaeanthropology, University of New England, Australia
Professional Membership
Environment Institute of Australia and New Zealand
Australian Institute of Emergency Services
Australian Institute of Energy
Australian Institute of Project Management
Outstanding Academic Achievement – 2003 Golden Key International Honour Society