Landfill Gas
The anaerobic decomposition of buried organic waste produces landfill gas (LFG). Municipal solid waste landfills produce significant quantities of LFG, production continues after dump closure. LFG typically has a methane content of about 40 to 55 per cent. The balance is primarily carbon dioxide. If LFG is not beneficially used, it is incinerated in a flare. However, flared LFG represents a wasted energy resource.
LFG is a substitute for natural gas. An end user's gas-burning equipment generates electric power. LFG fuels reciprocating engines, combustion turbines, steam cycle power plants and microturbines.
After the burial of waste in a landfill site, LFG production starts shortly after that. LFG production continues for as long as organic waste is present. The decline in LFG production is gradual, and in a dry climate, the production rate will decline as little as 2 per cent per year. In wetter climates, the rate of LFG production will decrease by 6 to 10 per cent per year.
Waste composition and landfill geometry affects the rate of LFG production. This in turn influences bacterial populations, chemical makeup, and thermal characteristics.
Mountain Gate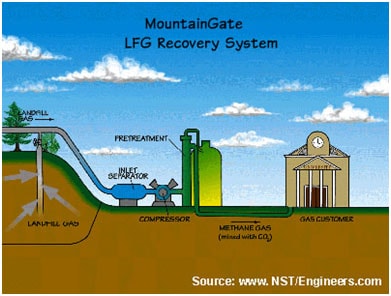 In early 2008, Waste Management entered into a joint venture with Linde North America. This is a leading global gas and engineering company. They aimed to build a plant and convert landfill gas to liquefied natural gas (LFG to LNG biomethane). With a facility at the Altamont Landfill in Livermore, California. Landfill gas collected and processed at Altamont creates clean, renewable fuels. This helps to "close the loop" on waste collection.
Since September 2009, when the commissioning process began, the plant has produced 200,000 gallons of LNG. To completely close the waste management loop. 500 of Waste Management's trucks throughout California are now running on the LNG. The Altamont plant the LNG replaces diesel (Treehugger).
Using landfill gas help reduces our carbon footprint while providing economic opportunities. It can also produce additional products, such as fertiliser additives or organic compounds, that are valuable commodities in their own right. As more cities realise the importance of utilising organic waste decomposition as a renewable energy source, there is more incentive than ever before for municipalities to capture this renewable resource instead of allowing it to escape into the atmosphere unchecked.
References
Treehugger, Creating Energy From Landfill Gas. 2010 http://www.treehugger.com/files/2010/03/creating-energy-from-landfill-gas-is-far-from-myth.php (accessed 21 April 2010)