Large Scale Biogas Design
Information and planning documents for large scale biogas design. Other plans and information for small scale and community sized installations are available from our Design page.
The construction and large scale biogas design is becoming increasingly important in light of climate change and move towards emission reductions. In a study by BCC Research released in February 2014, it estimated the world market for biogas digesters and landfill gas equipment reached nearly $4.5 billion in 2013. The sector will undoubtedly contiune to expand for many years to come.
In terms of small scale domestic biogas, China and India have an amazing 42.8 million and 4.5 million units installed respectively. This is driven by coordinated programs to utilise biomass waste for energy production.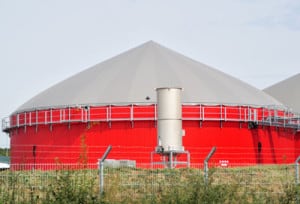 Biogas from AD: BIOEXELL Training Manual, c2004, Edited by Teodorita Al Seadi, Project deliverable of BIOEXELL, European Biogas Centre of Excellence.
Biogas Handbook, 2008, Published by University of Southern Denmark Esbjerg, Niels Bohrs Vej 9-10, Explanantion and how to get started 126 pages.
Biogas Utilization Handbook Great background reading for any system designer. 133 pages, 3.9mb download.
Hazard Classification of Biogas and Risks of Large Scale Biogas Production, 2013, Heezen, P.A.M. et.al., Chemical Engineering Transactions, Vol.31 pg.37-42
Montana Biomass Cogeneration: A Workshop Manual, Limaye DR, Qasim S, 1983, Montana Department of Natural Resources and Conservation, Montana. 13.0Mb
Planning and Construction of Biomass Plants Some brief notes on German agricultural designs. 7 pages, 97Kb.
Scandinavian Biogas Handbook: Aspects of Planning A biogs Plant, 2014, Anna Dorte Nørgaard and Knud Tybirk, Agro Business Park, Denmark.