Small Scale Biogas Design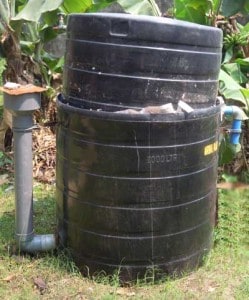 Below are a number of papers that can be downloaded for small scale biogas design, suited to domestic applications. Refer to the Design page to download designs for other larger or community systems.
Mega Biogas Plant Design Compilation 42Mb The document is quite large and is a compilation of various scale biogas design suited to household situations.
A Combined Digester and Gasholder PVC Plastic Tube Biogas Unit, February 1983, Davis, C.H. and Preston, T.R., Agricultural Development Agencies in Bangladesh.
Anaerobic Digestion: Small-scale, 2014, (Power Pojnt) Sphuler, D., Sustainable Sanitation and Water Management.
ARTI Biogas System 287Kb How to build this Indian unit.
Biogas Manual 2008, compiled by RCSD, India. Design features for a Deenbandhu biogas plant.
Design a Biogas System, Water for the World, Technical note describes how to design a domestic biogas system.
Domestic Biogas Compact Course, 2010, Lam J & ter Heegde F, Postgraduate Programme Renewable Energy, Handout for Students, University of Oldenburg, Germany.
FAO Biogas 1 Better Farming Series. Rudimentary designs. Biogas: What is it, How is it made, and How to us it 516Kb
FAO Biogas 2 Simple drum design with inner tube gas holders 494Kb
Micro-scale Biogas Production: A beginner's guide, 2010, Dana, R., NCAT Energy Specialist, National Sustainable Agriculture Information Service, National Center for Appropriate Technology,  www.attra.ncat.org.
Mini Biogas Plants For Households CD4CDM Working Paper Series, No,8 August 2008, GFA Envest Germany 1.2mb
Peace Corps – The Biogas/Biofertilizer Handbook, A very useful resource that covers biogas plant design and systems in easy to understand language.  164 pages, 1.5Mb
Plastic Tube Biodigester Vietnam Installation Manual Step by step biogas plant design and installation 605Kb
Low Cost Polyethylene Tube Biodigesters a novel floating poly biodigester in Vietnam 331Kb