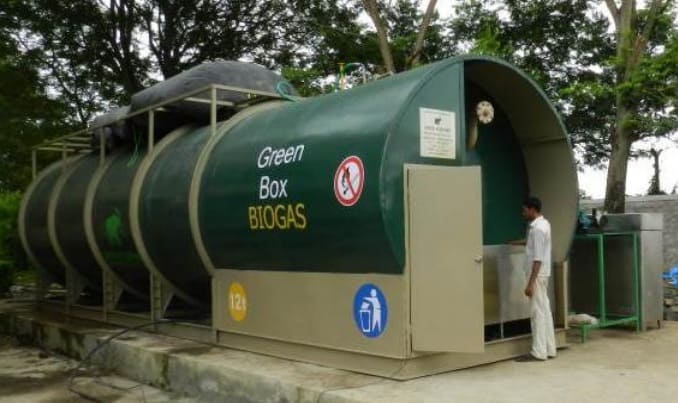 Green Box Biogas Plant
The GreenBox Bio Gas Plant was recognized and awarded the Best Innovation 2009 at the prestigious IIT; Mumbai TechFest.  Green Elephant was established in Germany in 2008 to develop, own and operate biogas plants using state of the art technology and an innovative project design.
The containerized unit is a mid-scale biogas system that can be used in: villages; farms; small poultry farms; hospitals; hotels; and restaurants. A submersible agitator inside the plant assists digestion and circulation of the slurry to avoid settling of the solids inside the digester. Depending on feedstock the system can be used in a continuous or discontinuous mode and produce between 60-85 cubic meters of biogas per day.
• Green Elephant Engineering offers engineering services, EPC- contracting including standardized solutions for small scale plants
• The team has collective experience of over 50 years working with the Bio-Gas industry across India, Germany, Sweden and Australia
• Has over 15 plants successfully commissioned in India
• Exclusive Marketing arrangement with NobleExchange Environment Solutions Pvt. Ltd.; India.
The Green Box biogas plant is equipped with submersible agitator which aids better digestion and circulation of the slurry inside the digester and avoids settling of the solids inside the digester. Other features include"
• Designed to handle all types of biodegradable waste including fruit & vegetable peels, process & plate waste, used kitchen oil/grease, tissue paper & garden waste
• Designed for continuous and discontinuous feeding of waste
• No fresh water required to treat the waste
• Equipped with a automatic temperature control system
• Programmable Logic Control (PLC) based panel for ease of operation and control of the plant
• Human Machine Interface (HMI) touch screen panel for the control interface of the user
• Inbuilt Smart online system which reads weight of waste, PH of slurry, temperature & gas output
• Working life of the plant: 15 years