What Can Biogas Do For You?
Unsure what system you need? or how you will use the biogas? what types and designs are available? what are your next steps?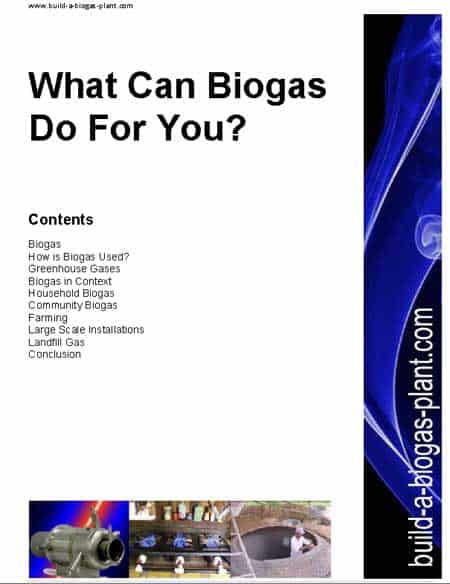 ——————————-
Right Click on Image to

What can biogas do for you? This renewable energy source has applications in various domestic circumstances. Gas is produced through anaerobic digestion, using biodegradable waste materials, such as manure and food waste. This process converts organic matter into biogas, primarily composed of methane (CH4) and carbon dioxide (CO2).
Biogas has many advantages compared to traditional fossil fuels. First, it is a clean-burning fuel that does not produce harmful smoke. It also produces fewer greenhouse gas emissions than other fossil fuels, making it a more sustainable energy source. Aside from these environmental benefits, it has powerful applicability in domestic settings and industries.
For domestic users, it powers cooking and lighting appliances. The biogas produced using biodegradable household waste can be easily collected and stored in tanks for use as cooking gas or light sources. This option is especially beneficial for households in remote areas without electricity grids or natural gas networks. Biogas powers engines such as those found in farm machinery or irrigation systems. It provides another layer of convenience for agricultural producers who rely on machines to carry out their work effectively.
In addition to this practical use, biogas also has economic benefits associated with its production and use. In the case of anaerobic digestion plants (ADPs), biogas production can provide additional income streams for farmers by selling biomethane generated from the anaerobic digestion process at local biomethane fueling stations or through grid injection schemes. Additionally, ADP operators may benefit from government incentives to encourage the development of renewable energies such as biomethane production and use.
Overall, it is a clean and sustainable energy source with unrealised potential. Its domestic application – notably cooking, lighting and powering engines – offers a viable alternative to traditional fuels while providing significant environmental and economic benefits. As more individuals become aware of this clean-burning fuel's potential applications and its positive effects on people's pocketbooks and the planet, biogas may become even more popular in years to come!